History of KIYA
Kiya was established in 1792 as a cutlery store.
It was in 1792 that the originator of Kiya permitted the founder Iisuke Kato to have a store which had same name. A founder of the originator is Kyube Hayashi, and his original family name was Fujiwara, and he served to Toyotomi family as a tradesman of medicine materials in Osaka. Then Shogun Ieyasu Tokugawa invited his brother to Edo, and he had a store in 2-Honcho.
His store was separated from the Osaka store, so he separated a Chinese character of his family name(林) into two parts(木 and 木), then he named his store Kiya (木屋).
The store was established in 1573, and moved to 1-Muromachi after 1657.
It prospered because many shouguns and daimyo patronized it.
It separated into a cutlery, shamisen, stationery and ivory store.
They had the same name Kiya, so people said 'The navy blue shop curtain of Kiya blooms in Muromachi.'
The book Tokyo Meibutsushi published in1901 introduced Kiya like that.
The originator of Kiya was today's general trading company which was trading fancy goods, Japan ware, and candles mainly.
Kyubei Hayashi's Kiya store sold japan ware before the war.
Iisuke Kato, the founder of Kiya as a cutlery shop, was born in Kuwana.
There were many wholesale stores whose name Iseya around in Muromati Nihonbashi ward at that time, and there were many succeeding tradesmen.
Though Iisuke was a young man in Kuwana, he was able to service his apprenticeship at a Kiya, because some big wholesale store introduced him to japan ware-Kiya.
He started working as a pupil, and he was promoted gradually, became a head, and opened his store next to the originator.


KIYA in Kidaisyoran
Kidaisyoran is a picture scroll; it shows an avenue from Imagawa Bridge in Edo to Nihonbashi from east side, you can see Kiya at that time (in 1805).
There were four Kiya shops lined up, including Koushichi-Kiya shop which has being built.
The shop curtain of the rightmost Kiya was printed Kiya's trademark. It is exactly the same we use today. That is a square one. (Izutsuki)
Kidaisyoran is a great work, 1690 characters were drawn in the picture. It belongs to the museum in Berlin (Staatliche Museen zu Berlin).
The originator of Kiya had a rule that 'We permit you to open a new store as a kiya, but we don't permit you to trade the same merchandise as ours.'
Therefore Iisuke started trading cutlery.
You can see two advertisements of Iisuke's Kiya in Edokaimonohitoriannai which was like a shopping guide book published in1824. One advertisement is for fancy goods, the other is for cutlery.
A trademark of the originator was '木' in a circle, then Iisuke used '木' in the square as a trademark for fancy goods. Because the originator also traded fancy goods, Iisuke might have hesitated to use exactly the same trademark. It seems that Iisuke used the same circle trademark as the originator for cutlery, because the originator didn't trade cutlery. The circle trademark was written between '十'(Ten) and '組'(Unions).
In 1791, it was one year before from Kiya opening, trade union of carpenter tool cutlery was organized. After that, some wholesaler closed a business, and sold their stocks, and Iisuke bought them. A system of ten-union was a kind of guild and it was made in Edo, corresponded to Osaka.
Though it was called ten-union, there were not exactly ten kinds of business types and they changed with the times. Tadasuke Ooka, a head of Echizen, promoted this system to make a firm price of daily goods in 1716-1736.
Then we skip in 1890, Tokyo kaimonohitoriannnai was published this year. This guide book shows an advertisement of Kiya. In this advertisement, a name of Iisuke(伊助) was written with a different Chinese character (伊輔). We assume that he is the fourth head. It was a custom for a head who opened his Kiya-store to go greeting the originator every month 1st and 15th.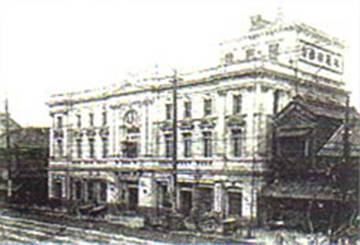 The head store of kiya before being bumed by disaster in 1923.The building of center, white and modern one is this.The right side of this store, there is a black and Japanese style merchant store.This was kiya of cutlery.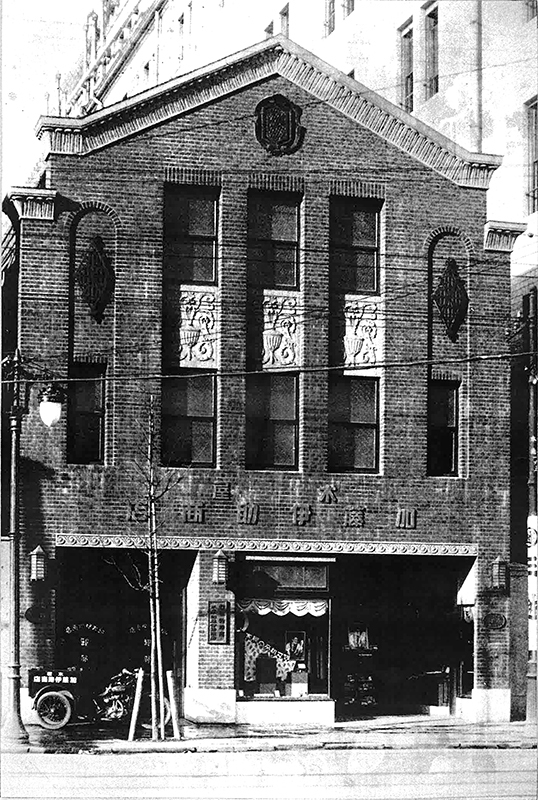 This was kiya of cutlery.We completed after disaster, but it was taken down because of forced evacuationat the end of World War II.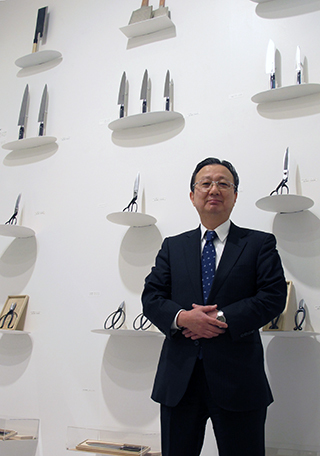 KIYA offers knives/cutlery/utensils usable
for a long time with affection
The 9th Owner of KIYA

Kinya Kato
1955 Born in Tokyo
1980 BA in German Literature
1980 Gakushuin University
1980 Mitsukoshi Department Store
1984/3 KIYA
1992/11 Vice President
2009/8 CEO & President
KIYA & Co.,Ltd

NT Nihonbashi Bldg. 2th/3th Fl.
3-11 Nihonbashi-Kobunachou
Chuo-Ku Tokyo 103-0024
JAPAN
TEL +81-(0)3-5652-3111
FAX +81-(0)3-5652-3195